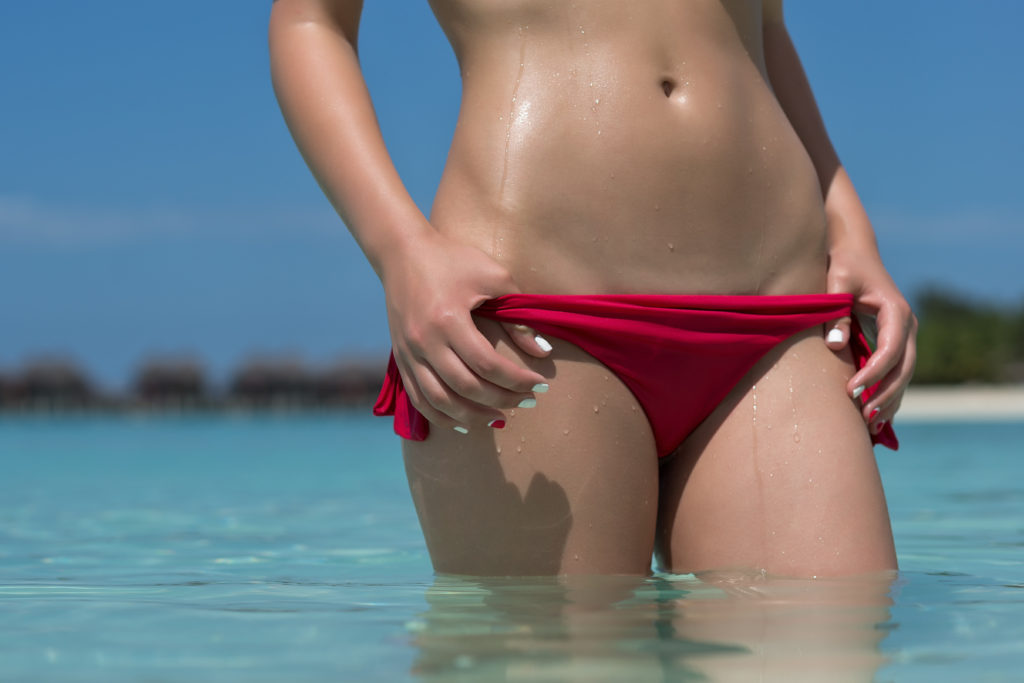 Liposuction is an excellent tool that allows surgeons to artistically sculpt problem areas by removing excess fat. Liposuction is the most popular cosmetic procedure in the United States. Some people find it difficult to shape certain areas of their bodies through diet and exercise and utilize liposuction to help them maintain a figure that reflects their healthy lifestyle.
The stomach, hips, and inner or outer thighs tend to be the areas most people dislike and have treated through liposuction. The buttocks, knees, arms and chin also respond nicely to liposuction. To find out how liposuction can benefit you, please call (703) 698-9668 to schedule a free consultation.
What Is Liposuction?
Liposuction (lipoplasty) is a procedure that can help contour your body by removing unwanted fat and inches from certain parts of the body, including the abdomen, hips, buttocks, thighs, arms and chin. Liposuction is not a replacement for diet or exercise, but it helps selected patients get rid of stubborn areas that do not respond to other weight loss methods. With weight loss, the fat cells in your body only shrink - they do not disappear. Liposuction surgery actually removes the fat cells from your body.
Dr. Pei performs liposuction under local anesthesia, which provides the patient with a smoother contour and a quick recovery, with minimal pain or bruising. There will be a noticeable difference in your body contour almost immediately after liposuction surgery and a small amount of swelling that will continue to subside for a few months after. Your new contour will remain permanent as long as you maintain a healthy lifestyle. If you gain weight after your liposuction surgery, the weight will distribute itself evenly throughout your body and will not settle in the same problem areas.
How Is Liposuction Performed?
The procedure is relatively simple and is usually completed in less than two hours. It is performed in one of our Virginia offices.
Liposuction is extremely safe. Your safety is our utmost concern and extreme caution and attention to detail is given to each and every procedure performed at our facilities.
Although bruising and swelling is often present following surgery, pain is typically minimal. A compression garment assists the skin in tightening in the weeks following surgery. Patients are asked to avoid strenuous activities during the first few weeks of recovery and usually return to work a few days after surgery.
Permanent improvement can be seen as the skin tightens but expectations should be reasonable. Liposuction alone cannot transform a very heavy midsection into a sculpted abdomen. However, combining liposuction with healthy diet and exercise has the potential to make an extreme improvement in your physique.
Liposuction Recovery
Post-operative instructions will be explained to you, and Dr. Pei will see you one to two days after your liposuction surgery. A post-operative garment is worn for two to four weeks to ensure proper healing. You may experience slight discomfort for a few days after your liposuction surgery, but you will be able to return to normal activities within a few days.
Basic Liposuction Surgery and Recovery Facts
Anesthesia: Local
Length of Procedure: 1-3 hours
Length of Stay: Outpatient
Discomfort: Mild to moderate discomfort for about 1-3 days
Return to work: 3-4 days, depending on your job
Swelling: Most swelling subsides within 3 weeks
Bruising: Minimal to moderate Stitches Dr. Pei will remove all stitches within 5-7 days
Exercise: 3-4 weeks to resume exercise
Results: You will notice a result after about 3 weeks, but liposuction results will continue to improve for up to four months after the procedure.
Find out if liposuction is right for you: Contact our office to arrange a free consultation by calling (703) 698-9668 today.