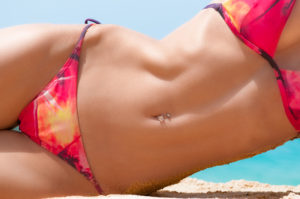 Mini Abdominoplasty (Mini Tummy Tuck) with C-section: C Tuck
A tummy tuck or abdominoplasty is abdominal surgery which removes excess skin and fat that may accumulate after pregnancy, or due to obesity or age. The benefits of abdominoplasty are tightening of the abdominal muscles/fascia which may have become stretched out during pregnancy. This procedure can dramatically aid in the reduction of a once prominent abdomen. During cesarean section we perform mini-abdominoplasty (mini-tuck) which tightens the muscle in the lower abdomen and does not alter the position of the belly button.
Who is a Good Candidate for Abdominoplasty?
Candidates must be in good health, have no active diseases or serious, pre-existing medical conditions, and must have realistic expectations of the outcome of the surgery. If you plan to become pregnant or to lose a significant amount of weight, you should discuss these plans with your doctor before surgery. Abdominoplasty is not a treatment for obesity or a substitute for proper diet and exercise.
NOTE: You may not be a candidate for surgery if you smoke, have recently quit smoking, or if you are exposed to second-hand smoke. Primary and secondary smoking decreases blood flow to the body's tissues. This can result in prolonged wound healing, skin loss, infection, increased scarring, and a number of other complications depending on the kind of procedure performed.
Mini Abdominoplasty with Cesarean delivery: C-Tuck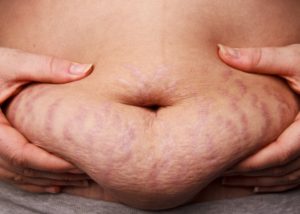 Mini Tummy Tuck can be performed at the same time of your planned C-section to avoid a second surgery if this is your last pregnancy. This is also called C-Tuck.
Alternatives to Abdominoplasty
During your initial physical examination, we may find that you would be a good candidate for less invasive procedures which would still allow you to meet your appearance goals. Alternative procedures may include a liposuction, or a panniculectomy, a procedure which reduces the hanging skin in the abdominal area.
How is the Procedure Performed?
In a C-Tuck, the surgeon will make an incision from hipbone to hipbone just above the pubic area. This incision is longer than the regular C-section incision. After the incision, the C-section is performed to deliver your baby. After C-section, the surgeon separates the skin from the abdominal wall all the way up to the belly button, then lifts a large skin flap, revealing the vertical muscles in the abdomen. Excess skin and fatty tissue are removed. The abdominal muscles are tightened by pulling them close together and stitching them into their new position. This provides a firmer abdominal wall and narrows the waistline.